Industrial acoustics and soundproofing insulation in buildings - noise control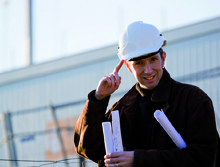 Industrial soundproofing & sound insulation in buildings: finding the best noise control solutions for you is ITS reason for being
The fight against noise, in relation to the protection of workers and the preservation of environment in general, and the limitation of noise emissions in the sector of energy in particular, make necessary actions of prevention and sometimes of reduction of nuisances.
The test of noisy equipments as well as the research and development in the matter of acoustics, and in particular the development of equipment sufficiently silenced or having a particular sound design, make use of specific testing rooms of which the construction is based on the implementation of dedicated industrial soundproofing techniques.
Acoustic comfort in buildings requires the implementation of appropriate materials and construction systems.
Isolation Technologie Services (ITS) assists you in finding noise control solutions, involving the design and the supply of equipments for industrial acoustics and soundproofing insulation in buildings and/or their turnkey installation.
ITS acts both as a design office specializing in noise control (e.g. measurements, calculations, recommendations), as a software publisher (for the simulation of acoustical propagation outdoor, in enclosed spaces or in ducts and for sizing sound insulation hardware) and as a sales representative office for manufacturers of equipment in the field of soundproofing.
The company is open to the world, English and German being read, written and spoken there (in addition to French) ; ITS thus participates in projects anywhere in France, and, by supporting some of its customers with or without business partners (French or international), in Europe and (even more often) in the rest of the world.
Industrial acoustics and soundproofing insulation in buildings - noise control: ITS offers all technologies and all services
Measurements, design office services (including studies, calculations and sizings, consultancy) and works in the field of industrial soundproofing and sound insulation of buildings: all technologies and all services are marketed by ITS for an effective treatment (guaranteed results) of the problems related to noise limitation and to the creation of choice soundscapes, everywhere.
Engineering & software publishing, representation, linkage: the quality management system for the technical and commercial services of ITS in the field of acoustical insulation is certified as being in compliance with the requirements of standard ISO 9001.
The equipments for industrial acoustics and soundproofing insulation in buildings marketed by ITS (e.g. noise control componants or systems) focus on optimizing performance, which is guaranteed by contract. They come from a (multidisciplinary) rigorous and imaginative development, using proven design methods and advanced sizing tools. Based on a reliable technology, they consist of materials carefully selected for their functional and environmental qualities, are manufactured using industrialized and competitive processes, and where applicable, are installed by a qualified manpower wherever a preservation or an improvement of the situation in terms of acoustics is required.
The equipments for industrial soundproofing and sound insulation in buildings offered by ITS for noise control, built to meet the most demanding quality requirerments and to last, are made for you.
Choice soundscapes, everywhere
Choice soundscapes, everywhere: this is Isolation Technologie Services (ITS) headline.
The reason for being of ITS is therefore to act, in all contexts, for the best possible consideration of the superposition of the natural sound environment (e.g. depending on the location: waves on a beach, birdsong, wind in the leaves of trees) and of acoustic emissions linked to human activities (e.g. depending on the case: through conversation or musical creation, but also through industrial activities, or through equipment in buildings and transport infrastructure operation).
Industrial acoustics (work, environment) and soundproofing insulation in buildings: ITS fight against noise, sound nuisance (studies and constructions). Thus, the solutions studied and marketed by ITS allow (depending on the context):
a reduction at source of the noise emissions of machines, equipment, installations and a limitation of sound transmission and a noise attenuation e.g. with carterizations, with canopies, with enclosures, with soundproofed buildings, with silencers of all kinds: for aeraulic networks (e.g. ventilation, air conditioning, aerocondensation-cooling, air supply for process including combustion air intakes, venting, dust control, various air inlets and outlets) and for pressurized fluid networks (e.g. with control valves: in-line and blow-off/discharge silencers for all industrial gases)
a limitation of noise propagation e.g. by the means of acoustic screens, of noise barrier walls or other noise control hardware
an improvement of acoustic comfort and/or the creation of specific acoustic measurement conditions e.g. by the means of the implementation of sound-absorbing materials
a protection of persons against noise e.g. with soundproof cabins
Measurements, studies, R&D, commercialization of supplies and of turnkey projects: everything for acoustics, with complementary technologies and services
Your visit as an internaut may be motivated by the search for a technical design office for on-site measurements, for an engineering, consulting or R&D mission, or else by the search a supplier for simulation software, equipment or on-site works, in the context of a soundproofing project (e.g. turnkey) for which an acoustic regulation (or a specification, a standard) is applicable (of which the consideration is wished e.g. to avoid a disturbance or even a nonconformity such as too considerable sound emission, exposure to excessive noise, nuisance of neighborhood due to an emergence above allowed limits, premise unsuitable for its foreseen use due to a lack of acoustic performance indicators satisfying appropriate criteria), or else still as part of a spontaneous step of improvement of a situation: prevention of noise pollution or upgrading of acoustic comfort (industry, building: for architectural acoustics also, environment).
Hardware is also offered by ITS when one is looking for a performance often linked to acoustics, e.g. in terms of fluid mechanics and aeraulics (aerodynamics), including when applied to air filtration for compressors or other turbomachinery and to combustion gas depollution (e.g. industrial exhaust systems for engines and turbines).
ITS welcomes you to this website dedicated to the means of preserving and beautifying our auditory environment, and to complementary technologies and services.